Can anyone argue that a good run, must also entail a good running outfit? Well, I can't - and, as my dear friend
Tonsa
would say, "It's ALL about the GEAR!"
Not only would
Tonsa
display it, but she would OWN! What I wouldn't give to raid her workout closet......
I have to admit that lately, now that I'm working from home and no longer have to dress to impress anyone, I am much more inclined to hit the Nike Store, Sports Authority & browse the sale racks at
Nordstrom
for workout attire vs Anne Taylor, The Gap and Banana Republic.
I'm pretty sure I've even spent more on sports bras and new socks than my usual obsession of the latest cute shoes (3"heel minimum of course).
But,
IRONMAN
has brought this addiction to a WHOLE new level. I think that my race jitters were actually overcome by my excitement to hit the Event Store at the
Ironman
Village. In fact, as soon as we checked into our house it was the first thing we (let by ME) did!
An hour later, and $296 poorer I finally felt somewhat complete. And I hadn't even finished an
ironman
....
But, of course it didn't end there.... There was a whole new array of products to be found AFTER the race. The FINISHERS gear. HAPPY.BIRTHDAY.TO.ME. So, I thought......
All week long I was inspired by all the cool things that everyone was wearing. The
MDOT
visors and technical T's. The finishers jackets and fuzzy fleece pullovers.
Now, I've done my fair share of races, but I never buy this kind of stuff. I get the T-shirt and that's usually about it. But this was different. This was
IRONMAN
. And, now.. it's my everyday attire. No more slacks and button up shirts. No more knee length skirts and sweater sets.
So, we go to the Finishers Tent at about 10am on Monday. It was like a feast for the starving. Everyone running around like scavengers fingering through the racks for their size....
Now, someone, anyone PLEASE TELL me. How many
Ironman
do you know that wear a 2x?
Please don't get too offended here now. I realize there are
Ironman
of all shapes and sizes, but this whole store was FULL of 2X EVERYTHING.
There was not a small, or a medium in site. Nothing. Nada. Zilch.
So, as hard as I tried to convince myself something was going to appear, I left the finishers tent empty handed.
I still have hope though..... They say the leftover products will be online at
eventstores
.com So, wouldn't you know it, I've been checking that site daily. No hourly.
Ok
, EVERY time I sit down or cross paths with my computer. I'm bound and determine to get some more gear. Something cute. Something that I can proudly wear... Just as I did today.....
Today was an
IM
day. I finally got my lazy butt out of bed to go for a run. If it weren't for my kids, I totally would have skipped it. But, I
promised
them I'd take them. They've had almost 2 weeks off and were beginning to go stir crazy.
So, today I got to test out my new visor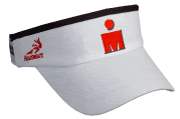 and the kids got to test out their new gear. See EVERYONE deserves to look the part. They were out there training with S & I every week. In fact, they are a big part of the reason we wouldn't oversleep. They are
IRONDOGS
, and thus, this is the present we came home with for them.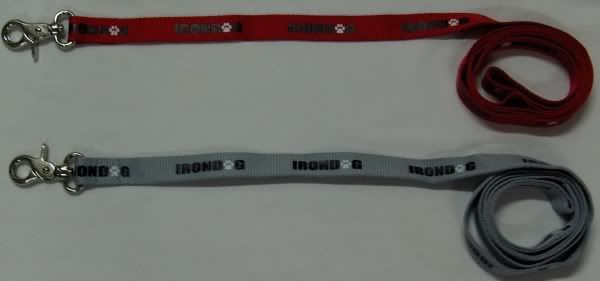 Today, the kids and I were out in top
Ironman
FASHION. We proudly wore our Logos, and can't wait to accumulate more of it!
P.S. The run went better than expected! I did about 55

mins

. HR was good. Legs were great. (Maybe it was the GEAR?)
It was just HOT. Like 90degrees by 7am.

WTF

????
Summer in AZ, gotta love it...... Or, have a second home somewhere else if you are lucky.
Cheers!