Seriously - what is an ADD girl like me gonna do after this Sunday when the remodel is done, my race is over and it's dark in the morning..... My poor husband :-)
And here we go:
Before - view from our bedroom. The huge double sink vanity with all the wasted space, as well as the mid 80s retro mirrors and lights....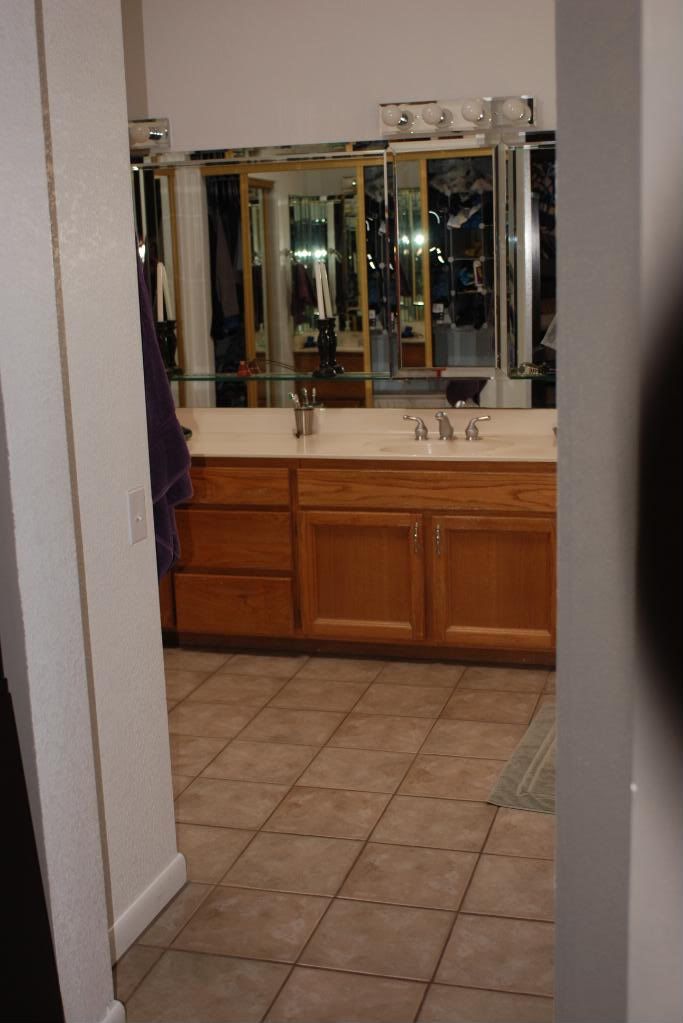 Sideways view of inside the shower. This was a huge bathtub, but no jets.... Oh - and the cracked fiberglass (or whatever it was)... That is what happens when you take 2 LaPans (present one excluded) a case a beer and no plumbing experience. That was day one in the new house...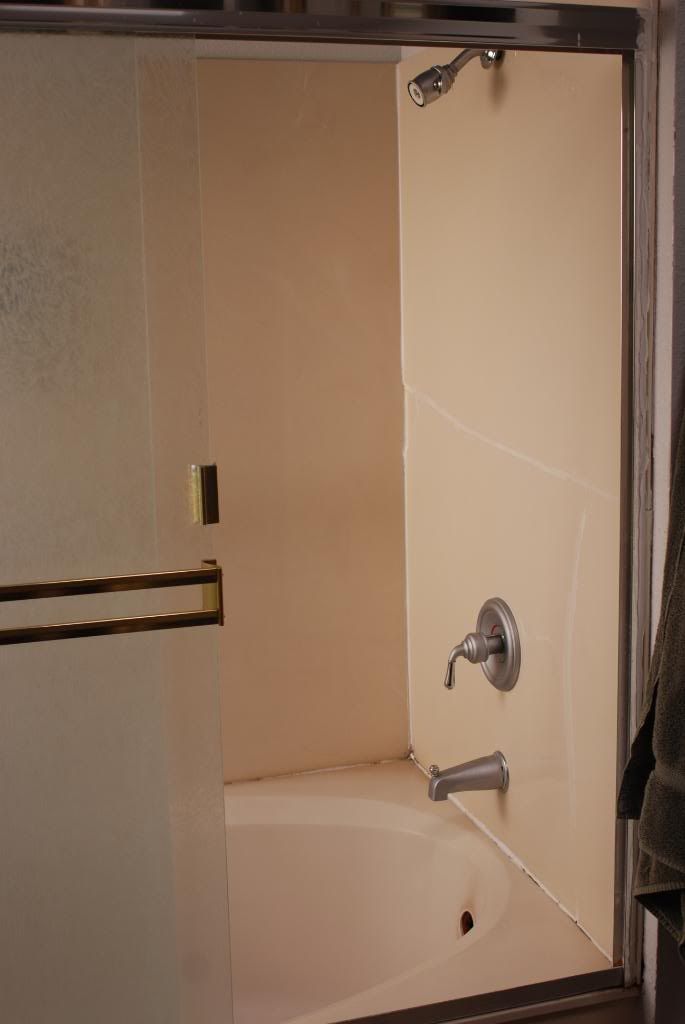 Another view of the shower door.....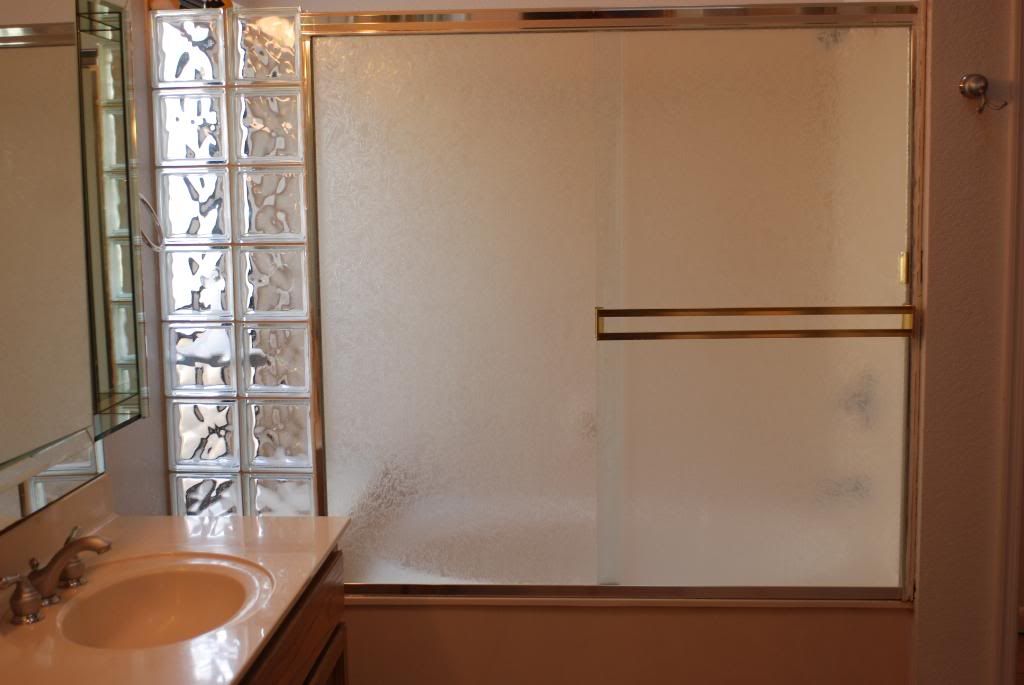 My old sink and tiny closet...
We still have 2 sinks, and plenty of room - and NO more 80s stuff!! Some of the cool details -
The brushed nickel Rosettes (?spelling) on the corner pieces of the mirror frame. Those were NOT easy to find in Plain brushed nickel...
The dual lights - we actually had a hard time finding these too - Finally ordered them from Restoration Hardware. I love the way they are set inside the mirror....
The granite is beautiful - It has gray hues and some blue/purple and chocolate colors - we really lucked out finding this slab.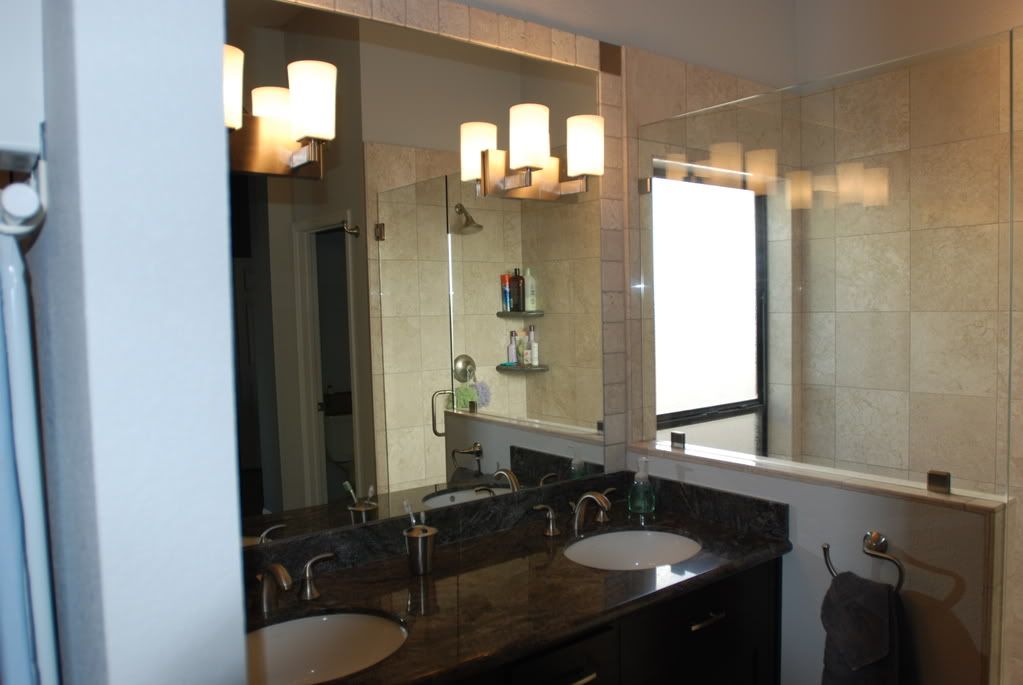 This is the new view from our bedroom - The cabinet was custom built (for sizing) off something I saw at Restoration Hardware. The wood stained an espresso with red hues to match our bedroom furniture. The quality is very very good and the guy added in pull out gliders under the sink. He also built the medicine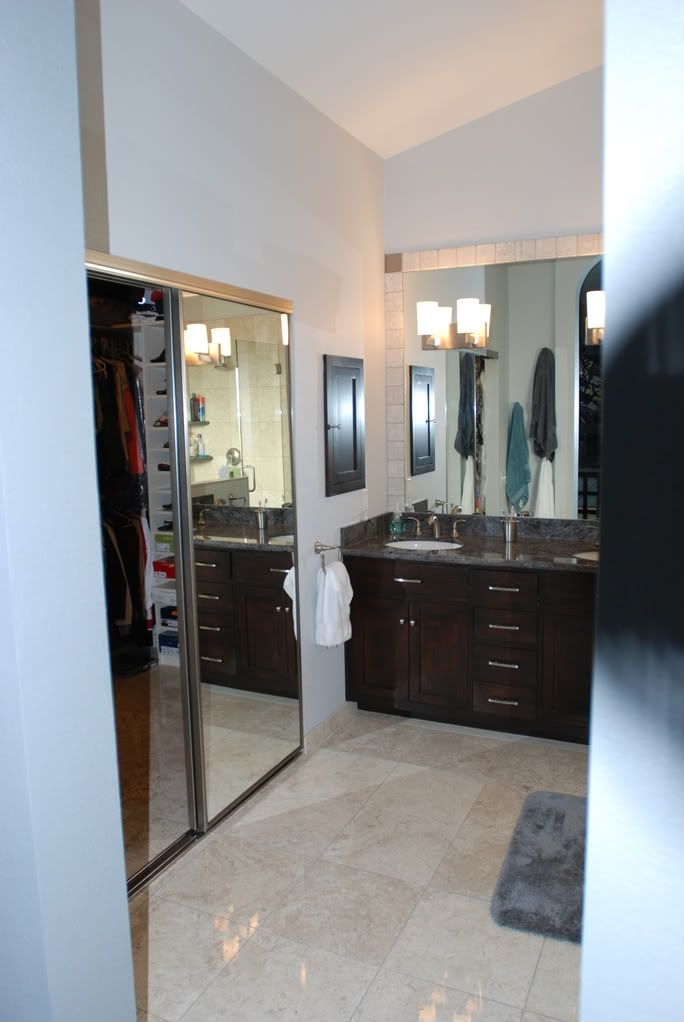 This is just a picture inside the shower. By taking out the old tub, we had a lot to work with space-wise, so we added this bench and used extra material from the granite slab. The shelves are shown before they were installed (next picture)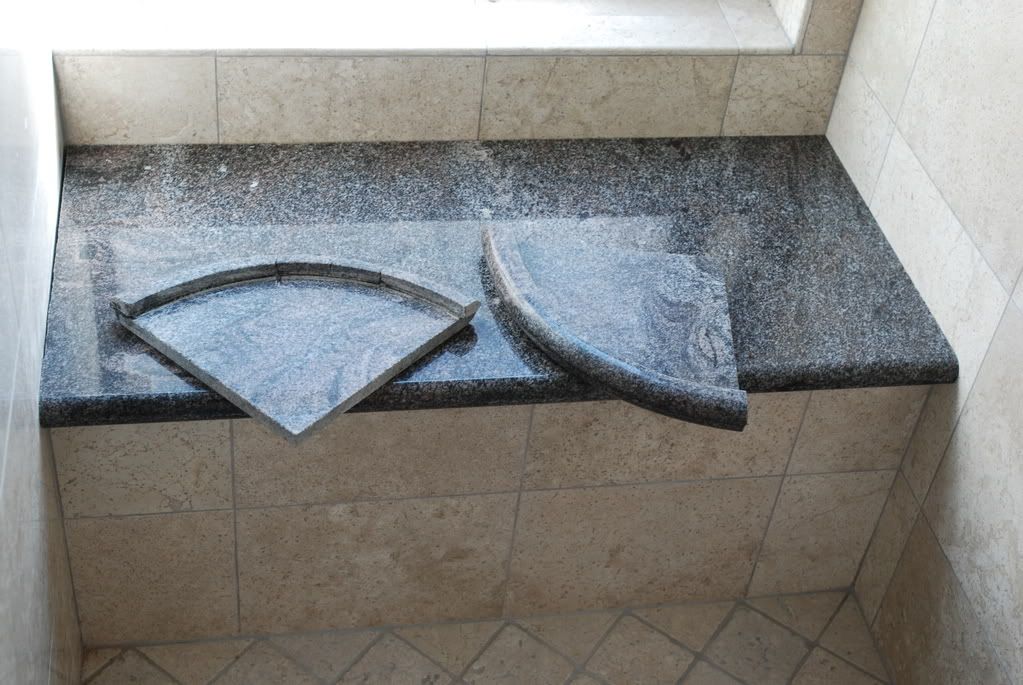 Like I said, the shower is HUGE. We have vaulted ceilings in there, so they took the tile pretty high. The glass doors have the "euro" fixtures that make it look a lot nicer.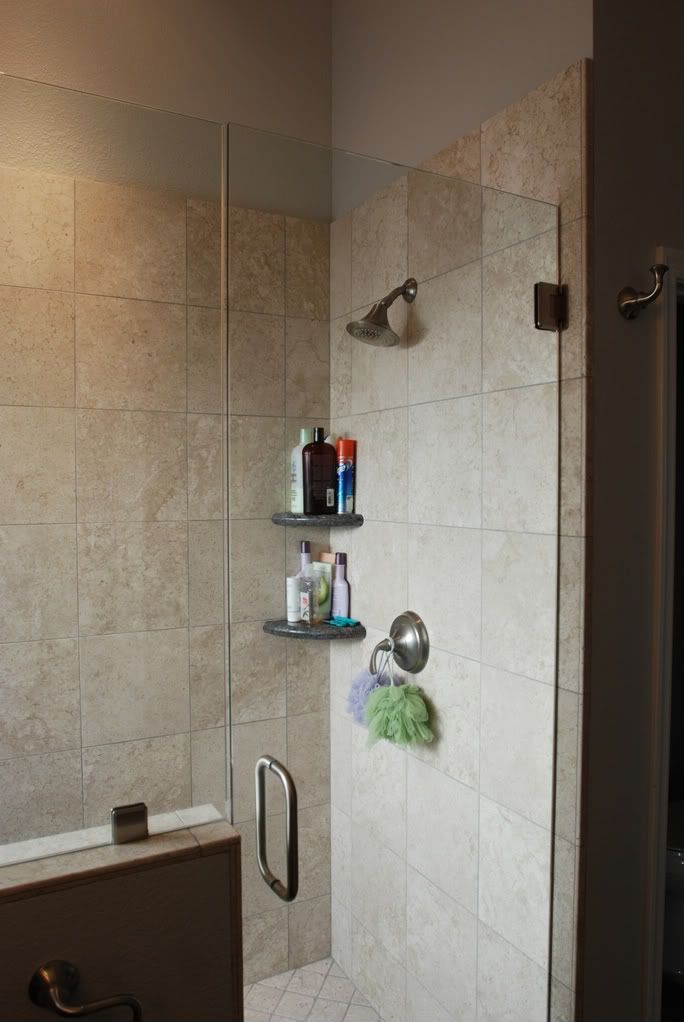 And, here is the 2nd bathroom before. Same wood, fixtures and fiberglass shower. Oh, and you can't see the detail of the paint - but it was horrible. When we moved in this bathroom had wallpaper. We removed it, did a horrible job of re-texturing and then tried to do some fancy paint job (Ralph Lauren textures, River Rock I think) It did NOT turn out!

The tile on the floor was installed by an old friend.... not his forte' - it also did not look good at all!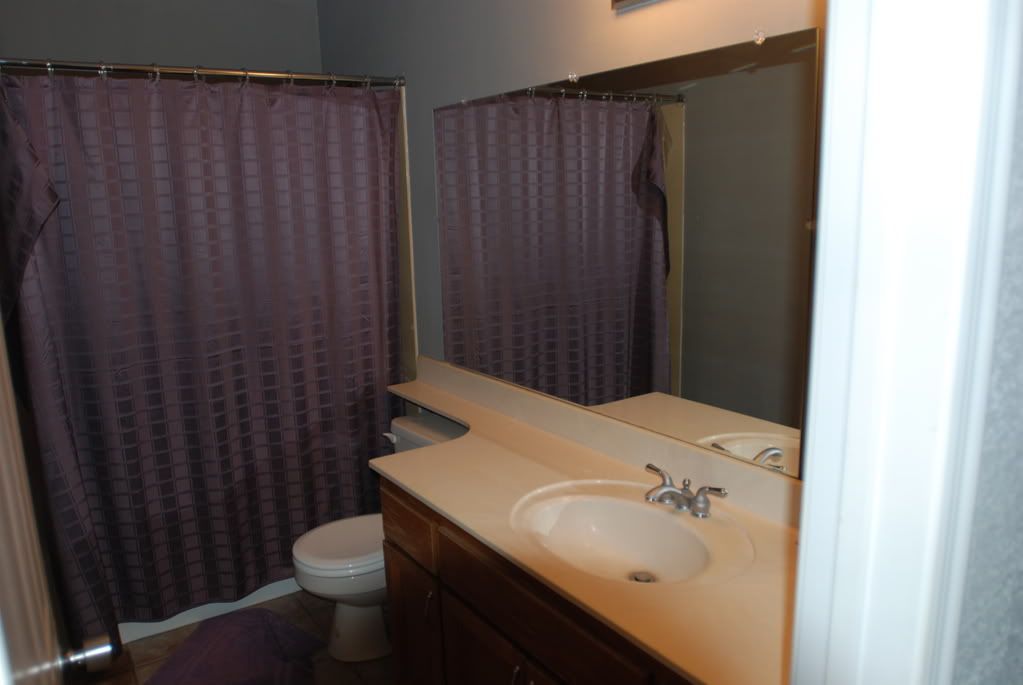 Inside the shower/tub
And the new tile/paint/fixtures!
For the most part the bathroom materials are different. Slightly different style faucet and lighting, but everything else is about the same... We were beyond sick of making decisions after 7 weeks on the other bathroom!