Here's our full team, including
Tonsa
... All I can say about this group, is they ALL ROCK! What an amazing adventure we had...
You can read
momo's
recap & see some more pictures
here
.
It really was as amazing as M describes. And, she TOTALLY started the whole FAST FAST FAST thing. I don't blame her though. There was the "core" group all showing off in their
itty
sports bras, and the girl took off like a bat out of hell.
Momo
HAD to step it up, and thus set the tone for the next 30 hours.
When it came to my first leg my HR monitor read 142 before I even started. I don't know if it was a fluke, or just all the excitement! I haven't run fast in years. I haven't done a 10K in years...
It was HOT, like maybe 80
degs
out? 2:30pm
ish
. I do NOT run in the heat well.
Ughh
...but my team was so fired up, and my HR monitor was reading 00
bpms
, so I just RAN. Next thing I new, I looked down & it said 179, a couple minutes later 184. Oh, screw it I thought. My HR has not been this high in almost a year! Crap... Oh well, I'm taking the sucker off, it's just stressing me out.
My first leg was slight rollers, 5.6miles. 50
mins
. Just under a 9min mile. Did I mention I don't run well in the HEAT, hence the high HR.
Leg 2, I had a nice downhill 10K, 6.2miles. It was about midnight. I didn't eat my dinner, cause it was gross... I was a little worried. But the temp was perfect, about 53
degs
. I had my night guide Matt illuminating the rode for me. I turned the corner with about a quarter mile to go & could see the exchange. I looked at my watch. It was 49:and some change. I pushed as hard as I could. If I could just get to that exchange in like :30 I could PR for a 10K.... It's all anaerobic, might as well try for something cool, right?
Well, I missed it by :40, but I'm pretty sure had I known I was running that fast, I totally could have picked it up. I wasn't working that hard during the run. Oh well.. another time, I guess. My second leg was 6.2miles, 50:11.
The night went on, we tried sleeping. We ate, we ate some more. We ate salt packets (thanks to
momo's
advice), and then.. it's time for our 3rd legs. None of us were "feeling it," but once again..
Momo
fired it up & ran like hell. Then, so did Daniel, and Ric... and then it was my turn again.
I was a mess. After my second leg I had 2 huge blood blisters on my big toes. They were throbbing. I was walking funny to not put pressure on them. BIG mistake. BIG. When I started my last leg, which was straight up hill, I had the most horrible pain on my left IT band. This is my GOOD leg. I was in so much pain, I was actually in tears. Had my group driven by, I probably would have asked someone to run for me...
But, I didn't.. I survived. My pace wasn't nearly as impressive at a 10:14 per mile. I focused on
Tonsa
, I focused on her spirit, and how she would do anything to be in my place, running UP that hill...
The rest of the team ROCKED their last legs. We had gained over 90
mins
on our predicted times.
Tonsa
met us at the finish..... She
snuck
away to run the last couple hundred yards with Sara... HOW HAPPY DOES SHE LOOK?? :-) This is what those 30 hours were all about :-)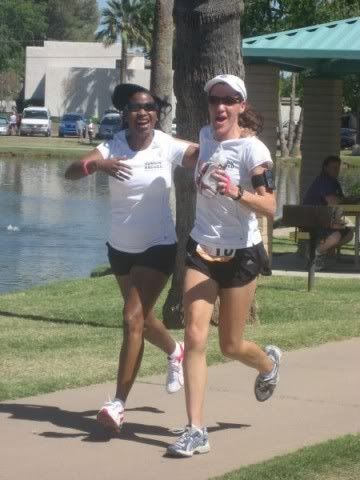 It's now Monday... I'm still sore, and tired..but also excited for next year's TEAM ANAEROBIC debut, as the ultra team for Ragnar Relay, Del Sol 2008!