Today I did something rather unlike me. I took an unscheduled DAY off :-) Not because I felt like I needed it, or something was hurting, but I was looking at my schedule for the next few weeks and realized if I didn't rest today... I wouldn't have a DAY off for nearly 3 weeks..
Momo
& I usually do our long runs on Friday, leaving us with Sundays as our day off. This week she was taking her family to the airport, so we would have had to work around that to get our run in. So, with that in mind, and at the beginning of the week when we planned this, I was also feeling pretty warn down, we decided to do our long run on Sunday this week.
I initially still planned on swimming Friday, like usual... but then I looked into the next few weeks and things are a little crazy!
Next week I have some girlfriends coming into town for a
bachelorette
party. 2 of my really good friends from college, Erin & Shelby will be in town for this (picture at our last reunion almost a year ago in Pullman for a Cougar Football Game - left to right: me Erin,
Shelb
).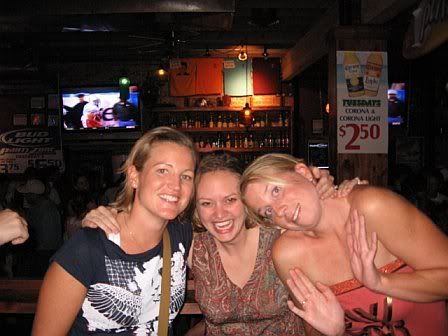 I will also be seeing a few other good friends that I have lost touch with, as well as meet some new girls.
Anyhoo
- it is an entire weekend of festivities, beginning on THURSDAY with a Happy Hour with some old friends we all used to work with when we first moved to Phoenix (when I moved here, I somehow brought along with me 4 buddies from College.. they have all moved away now - but boy was that first year in AZ crazy!). Friday I am having some of the girls over to my house for pool, relaxing time. Friday night is a dinner/wine bar evening, Saturday is brunch & all day pool party with games, etc at another hosts home, and Saturday evening is the big night out all inclusive of dinner, limo, games, matching outfits, etc.... To end it all is a Sunday late morning brunch.
And we all thought
ironman
training was hard. These girls REALLY know how to live it up. Now we all know I won't be the life of THIS said party, but I'd like to try to 'hang' as much as possible. IF anyone has some advice on how to be 3 weeks away from an ironman, and still be FUN, please share....
So, Thurs I will head to happy hour for ONE DRINK (will-power if I ever needed you.. it's NOW), Friday I will get up early & get my long run in.... No swimming and hang out with the girls all day. Saturday I will get my long bike ride in & try to recover for Saturday night. Sunday, our group is doing an open water swim, so there goes my day off.... I'm hoping to get the swim in before the brunch, but we'll just have to see how that goes.
My POINT is, had I not taken today off, I would not have a day off from the 27
th
of May until the week of the 17
th
of June. Now, I know some people are fine with working out 7 days a week. However, I am a STRONG believer in the rest day. I think not only is it physically important, but it's just as mentally important. Let your body completely shut down.
So - what did I do with my day today? Seeing how I actually felt RESTED when I woke up around 5:30 am.... I tried to keep myself as "entertained" as possible so I didn't end up at the pool.
I did some work this am.... then I was really starting to get antsy, so I did what most normal people do first thing in the am - (just not
momo
& I...) I took a shower before noon! Can you believe it? I figured it was my best attempt at not giving in and heading to the pool for masters.
So, I showered & headed down to S's office to pick him up for lunch. After that, I hit the bank... stopped for dog food, then headed to my sewing gal to hem a pair of jeans I bought months ago.... then I came home. I took my
new nutrition book
outside and basked in the sun for an hour learning all about good proteins and bad proteins and fats and oils and sugars.... and that's only the first 2 chapters!
After that I chatted with
momo
for a while on
IM
(as if we hadn't
already
talked about 5 times today), then headed to the store to get stuff for dinner.
And, now.. here you have it. A VERY rested, and RESTLESS
Tri
-
Dogmom
.... I've
succumbed
to writing to all of you out there that are bored enough to read about my non-eventful day.
I hope for all of your sakes my 6:15 workout tomorrow brings me back to normal so I can come up with a little more entertaining thoughts....
Until then.... have a great evening!