It REALLY does work.
So, to make myself feel better after my horrible ride yesterday... I bought me some of THESE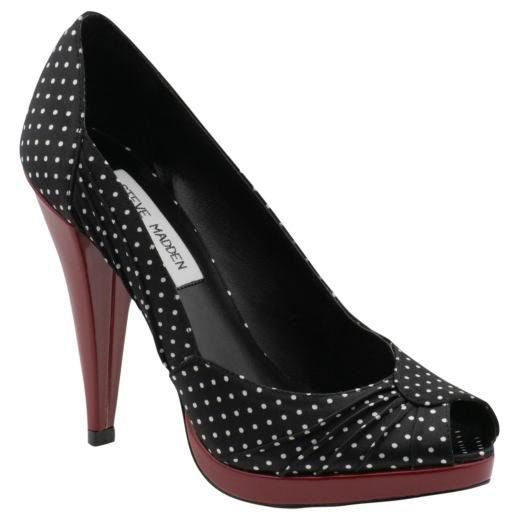 Last weekend S & I went on a shopping spree. FOR HIM. Yes you heard it right... he got 2 new pairs of shoes, like 10 new shirts & two new jackets...
Macy's was having a really good sale. And, while we both LOATH cloths shopping (shoe shopping is an entirely different story), he was in dire need. So we stocked him up with some new duds, and I of course felt compelled to buy me some new shoes... after all, I did spend like 2 hours in the mends department with him.
Including the men's shoe department. Which, by the way is so not the same experience as the ladies shoe department. It, in fact was not fun at all. Painful in fact. So much that as soon as we picked his shoes, we ran out of there before the sales guy could get the credit. Not because we are mean, but because he was THAT BAD
But, anyway, back to the story of how I scored me the above beautiful shoes.
I found them right away. Right away meaning before Shane even got to the mall to meet me, and again, after his 2 hour escapade in the men's department. Of course when I finally asked to try them on they only had 2 sizes. A 6 and a 10. I really didn't see it possible to put my 7.5 foot into that...
So, while I didn't end up with the polka dot shoes.. I did get a cute little gray pair of gray patent leather mary jane heels. Which, I must say are not only adorable with jean, but also hella comfy! Cute & Comfy and a steal at 60% off.
Again.. back to the above shoes. I couldn't stop thinking about them. Some people obsess over cars, or desserts (ok I do that sometimes too)... I obsess over shoes, if I find a pair that I LOVE. And especially if I find a pair I love and I can't have.
So, I searched the internet. I found them... only they were full price. No sale.. and not too cheap. Well, I did find them for 45% off, but not in my size. Of.Course.
Then, magically... when I got home from the HORRIFIC bike ride yesterday. That same website that had them on sale, not in my size.
They had ONE 7.5. Perfect. Ordered. in less that 5 mins.
So yes, now I am obsessively checking the shipping status. So I can know exactly when the stork, I mean UPS man will bring them.
What horrible, worse bike ride of my life?
Shoe Therapy. It works. Try it. Live it. You won't be sorry....